Five things to learn this week
20th Sep 2021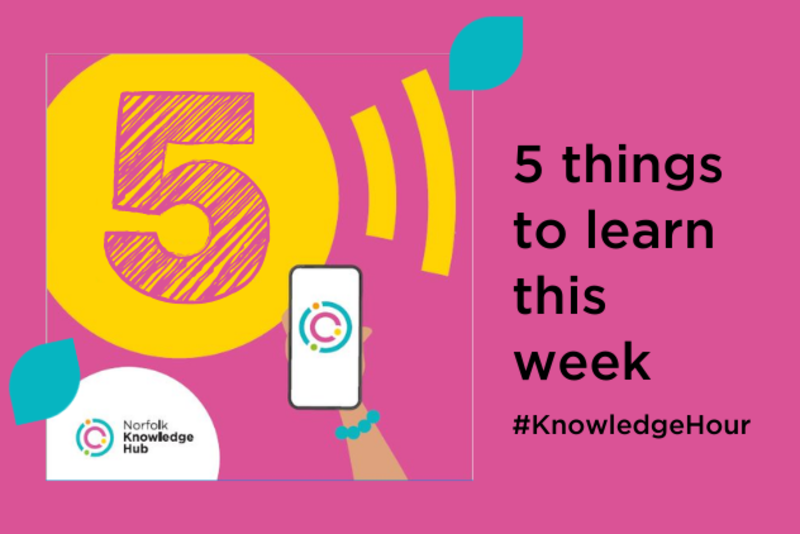 An hour of our working day can be used in so many ways: from your team catch up on zoom, finishing touches to a presentation, planning future events for your away days and, most importantly, the ins and outs of the latest blockbuster TV series.
So why not take just 60 minutes of your day to increase your knowledge and skills? You can learn about information on key issues from learning how to adapt and successfully recover from the impacts of the Covid-19 pandemic, understanding and navigating Brexit and other key challenges; to updating you and your organisation's skills and discovering new opportunities.
The Norfolk Knowledge Hub has over 30 hours of content every month, free to access and use - covering a wide variety of topics and areas.
The Hub is curated by your Norfolk Chambers, with content given freely by businesses within Norfolk in the spirit of recovery, and recognition of knowledge, learning and development.
Something to read
3 post-lockdown design trends all workplaces should consider
It's safe to say most employers know that things won't simply go back to normal when their teams return to the office. Layrd Design discusses three current interior design trends highlight the ways in which employers can help their teams successfully return to the workplace. In this article, we explore how updated approaches embrace the positives of home working and eliminate drawbacks in ways that nurture employee well-being, collaboration and engagement.
Something to watch
Business Growth Club - Using benefits in your Sales
Join Neil Foley as he discusses how to turn features into benefits to give you a Business Booster.
Something to read
How to Start a Business (When You're Working Full-Time!)
Have you have ever said "I'd love to start a business, but I can't because I'm working full-time" ask yourself, are you using your job as an excuse not to go for it?
As a Business Mentor, Kathy Ennis has a specialism in helping people transition from employee to entrepreneur, I can tell you:
You're not alone in wanting to make the transition
You can start the business you want while you are working full-time
Something to listen to
First Intuition - When Life Gives You Lemons (Dealing With Uncertainity)
In this episode of our Student FI Podcast directors and tutors, Ben Bullman and David Malthouse will be discussing how to deal with unexpected change, when life gives you lemons.... make lemon meringue pie!
Something to watch
Fountain – The importance of Moral Standards in Marketing
In this talk, Fountain's David Cooper identifies the issues with morality in digital marketing at the moment, and the well-known sources that prove this. However, he then shows how we can reverse this, and how this can actually improve your digital marketing's performance.