Five things to Learn this week
13th Sep 2021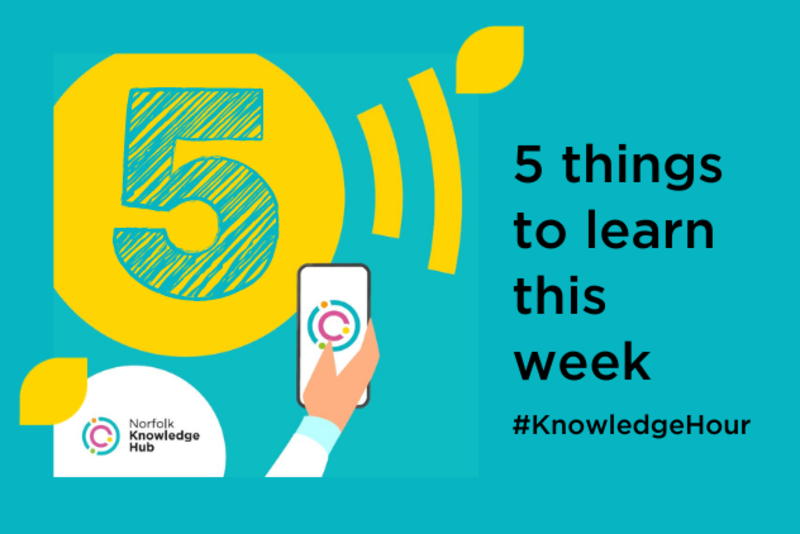 An hour of our working day can be used in so many ways: from your team catch up on zoom, finishing touches to a presentation, planning future events for your away days and, most importantly, the ins and outs of the latest blockbuster TV series.
So why not take just 60 minutes of your day to increase your knowledge and skills? You can learn about information on key issues from learning how to adapt and successfully recover from the impacts of the Covid-19 pandemic, understanding and navigating Brexit and other key challenges; to updating you and your organisation's skills and discovering new opportunities.
The Norfolk Knowledge Hub has over 30 hours of content every month, free to access and use - covering a wide variety of topics and areas.
The Hub is curated by your Norfolk Chambers, with content given freely by businesses within Norfolk in the spirit of recovery, and recognition of knowledge, learning and development.
Something to read
The Sounding Board – voices of experience
Making big decisions better, by Richard Ross.
The Sounding Board is a group of entrepreneurs, professional advisors and generally nice people who love the challenge of running businesses and are happy to volunteer their time to try and help. We want to share that knowledge and experience we have of running organisations in order help others with theirs... and raise some money for charity along the way.
Something to watch
Mills & Reeve: Building towards net zero - what is it and how do we get there
What do we mean by net zero?
In just under an hour discover more with another Mills and Reeve's webinar with Stuart Pemble, Professor Sean Smith and Carla Parsons address the 'foundations' of the movement towards net zero and what we mean by net zero.
Something to listen to
The Norfolk Chambers Podcast with Leon Davies, 10 ways to save the planet
If you keep meaning to make eco-friendly changes in your life but never quite get round to it, then listen in as Leon discusses his Ten ways to save the planet by living more sustainably.
We'll be talking about his journey from serving as an Engineer in the Royal Air Force, to founding a multi award winning Zero emissions taxi service right here in Norwich, testing satellites for Elon Musk, and most recently setting up his own company, Leon Davies.co.uk and becoming a Sustainability Specialist.
Something to watch
Chambers Webinar – Want to Make Digital Marketing Easier?
Digital doesn't have to be complex or over-burdening. Grab yourself a cuppa, relax and spend your #knowledgeHour on developing new skills!
Naked Marketing have put together a few simple tips for how you can use digital to out-think your competition. The workshop covers websites, SEO, PPC and Social Media – hopefully inspiring you to use 'now' as the perfect time to get digital.
Something to listen to
Julie Hunts Money Journey: Anniversary Episode
Listen for top tips from Julie Hunt on her anniversary podcast episode – Julie, Becky and Emma celebrate their 1-year anniversary of our Money Compass Podcast. Julie, Becky and Emma interview each other and give their own Money Journey stories. Julie's Top Tips include:
Money doesn't make your childhood. You can still have a very rich life with lots of memories and experiences without spending a lot of money
Save hard to achieve your goals
Don't be limited by your roots and where you came from. Once you meet people from other backgrounds the opportunities are endless -expose yourself to these opportunities!