The routemap to net zero carbon
The journey to reaching net zero carbon will be challenging. Our industry currently produces two per cent of the UK's total carbon emissions.
4th Aug 2021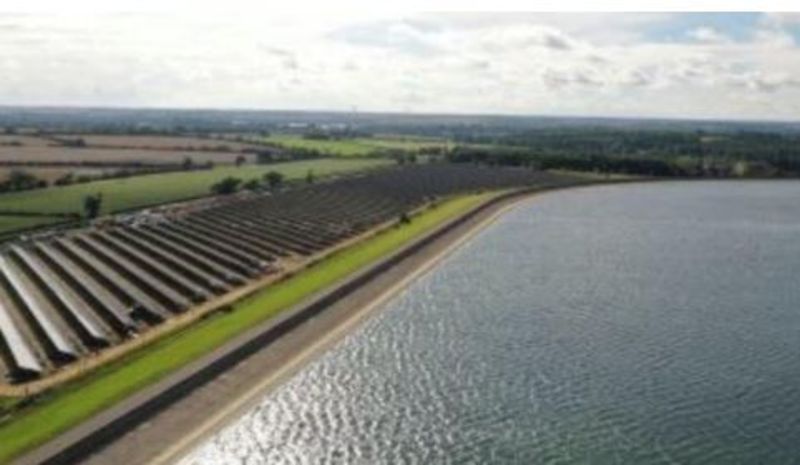 Our pledge
In 2019, as part of a new Public Interest Commitment, we pledged to reach net zero carbon along with other water companies in England.
This is an ambitious commitment, and we have a challenging journey ahead of us; however, we know how important it is for reducing the consumption of natural resources and addressing the threat of climate change, particularly for our region.
In 2020, the water industry published its routemap on how the sector will reach net zero for operational emissions in less than a decade. It is the world's first example of an entire industry coming together to develop a sector-wide plan to drive down emissions.
How will we get there? Anglian Water's routemap
In common with our fellow water companies, we've used the water sector routemap to develop our own net zero action plan based on the needs and challenges in our region.
Our routemap for Anglian Water sets out how we'll get to net zero through a three-step hierarchy based on reducing our emissions, decarbonising our electricity supply and removing or offsetting our residual emissions.
These are the key interventions we'll make:
Maximising energy efficiency and renewable energy generation and storage – by installing up to 240 GWhs of solar generation on and around our own sites and implementing energy efficiency measures reducing power demand by 58GWhs per year, equivalent to the electricity demand of over 15,000 UK homes.
Procuring green electricity – for all remaining grid requirements.
Decarbonising our vehicle fleet – replacing 90 per cent of all small fleet vehicles with electric equivalents, gradually switching medium-sized vehicles to hydrogen or alternative fuels such as biomethane and changing 55 per cent of our HGVs to using Liquefied Natural Gas.
Maximising the value of biogas – upgrading biogas production to biomethane that can be exported to the grid, used as transport fuel or supplied to industry, helping to reduce emissions in more challenging sectors of the economy.
Managing process emissions – installing monitoring equipment at four large Anglian Water sites to improve understanding about the scale and location of process emissions, the water sector's most difficult carbon challenge to resolve. We'll share the outputs so they can be reviewed alongside evidence from comparable studies in the UK and elsewhere when possible, with a view to having a full plan in place to manage and reduce emissions by 2030.
Opting for alternative fuels – we'll switch 100 per cent of our gas oil demand to hydrotreated vegetable oils (HVOs) and develop a plan to maximise the opportunities and benefits for hydrogen across all our operations.
Developing our offsetting strategy for residual emissions, prioritising in-region offsets with co-benefits – by planting 50 hectares of woodland on Anglian Water sites, exploring removal opportunities using wetlands, marshes and grasslands and working with landowners to develop land management schemes that avoid and remove emissions.
Anglian Water CEO Peter Simpson
"Over a decade ago we had come to the realisation that we had a clear duty to tackle our emissions - not just because the water sector is generally one of the most power hungry, but because the rural nature and flat landscape of our region means we need even more energy than most to pump water to where it is needed. We all know it is more urgent than ever to try to undo – or at least put a stop to – the damage we are doing to our planet, and to adapt our assets to be fit for the future. The extremes of weather we are seeing, not just around the world, but here in our own back yard in the East of England, make it impossible to ignore the need to tackle our remaining emissions right now, in parallel with our efforts to be resilient to the changing climate which is already underway. "
Showing leadership
Of course, we can't do this alone, we'll be working with our customers, the Government, regulators and our supply chain to help deliver to these plans and be an industry leader on this journey.
We co-sponsor the water sector's net zero carbon commitment with Northumbrian Water and Yorkshire Water and chair the Water UK Carbon Working Group.
Our CEO Peter Simpson is playing a leading role in driving progress to net zero across British industry through his co-chairship of the UK branch of CLG UK, the Corporate Leaders Group in the UK, whose members are committed to achieve net zero carbon emissions.
The industry routemap
The sector routemap sets out a broad range of opportunities, initiatives and projects that will help us collectively cut millions of tonnes of carbon emissions by 2030, including:
making even more use of renewable energy by generating enough solar and wind power to meet 80% of the water sector's electricity demands. We have a target at Anglian Water to generate 44% of the energy we need using renewable sources by 2025
restoration of 20,000 hectares of precious peatland and grassland to capture carbon emissions planting 11 million new trees
producing more biogas from water recycling waste, which can be injected into the grid to heat homes or used as an alternative fuel for transport
using advanced anaerobic digestion for sewage treatment to reduce process emissions
using electric or alternative fuels to power our fleet vehicles and commercial vehicles.
Further information
See our industry routemap to net zero.