Five things to learn this week
16th Aug 2021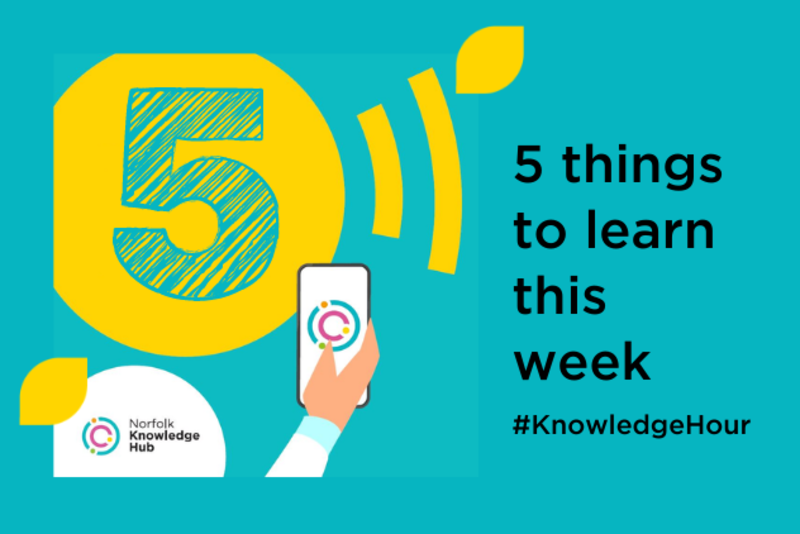 An hour of our working day can be used in so many ways: from your team catch up on zoom, finishing touches to a presentation, planning future events for your away days and, most importantly, the ins and outs of the latest blockbuster TV series.
So why not take just 60 minutes of your day to increase your knowledge and skills? You can learn about information on key issues from learning how to adapt and successfully recover from the impacts of the Covid-19 pandemic, understanding and navigating Brexit and other key challenges; to updating you and your organisation's skills and discovering new opportunities.
The Norfolk Knowledge Hub has over 30 hours of content every month, free to access and use - covering a wide variety of topics and areas.
The Hub is curated by your Norfolk Chambers, with content given freely by businesses within Norfolk in the spirit of recovery, and recognition of knowledge, learning and development.
Something to read
One thing that you cannot deny throughout the COVID-19 pandemic is the Government's sustained efforts to try and support businesses and scaffold the economy in a time of significant uncertainty. As the country moves toward a normality that resembles life pre-pandemic, many businesses are asking what support is available for those still feeling the impact and for those who are wishing to maximise on opportunities available to them.
Something to watch
As we all re-emerge at different times, in different places and in different ways, let's make sure we take these three important steps together.
Here's the fourth in this series of videos aimed at supporting people's mental health and wellbeing. I've been waiting for this time, with restrictions easing in some places around the World, to share more helpful thoughts with you.
Something to listen to
Business Growth Club: Being a female business person in a male dominated sector
Neil Foley chats with Sophie Cator, of Cator Family Car Sales with sexism in the automotive industry, a fascinating chat on working in a male dominated sector.
Something to watch
Spotlight on Sustainable and Purpose Led Business
Andrew Gray, NatWest Local Enterprise Manager discusses in the this event the Low carbon economy and the Net Zero banking alliance.
"As we begin our path to recovery from the immense disruption caused by COVID-19 and move towards COP26 and a sustainable future, we have an unprecedented opportunity to Build Back Responsibly with business taking action that creates positive outcomes for people and nature.
Something to listen to
Why Your Mindset Is So Important In Sales
Published author and sales training guru Matt Sykes explains to Neil Foley how to get the right mindset to succeed in sales, using a proven model and technique based on a lifetime's experience.