Five things to learn this week
9th Aug 2021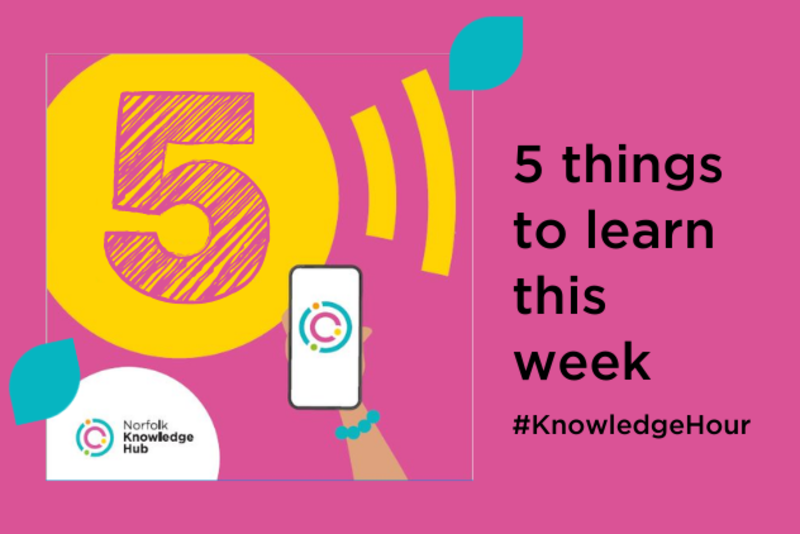 An hour of our working day can be used in so many ways: from your team catch up on zoom, finishing touches to a presentation, planning future events for your away days and, most importantly, the ins and outs of the latest blockbuster TV series.
So why not take just 60 minutes of your day to increase your knowledge and skills? You can learn about information on key issues from learning how to adapt and successfully recover from the impacts of the Covid-19 pandemic, understanding and navigating Brexit and other key challenges; to updating you and your organisation's skills and discovering new opportunities.
The Norfolk Knowledge Hub has over 30 hours of content every month, free to access and use - covering a wide variety of topics and areas.
The Hub is curated by your Norfolk Chambers, with content given freely by businesses within Norfolk in the spirit of recovery, and recognition of knowledge, learning and development.
Something to read
"Choose a job you love, and you will never have to work a day in your life", says the well-known maxim. Here's why you need to be in a job you love, and in a role that best utilises your talents.
Each person in the workplace is unique; in their character, their personality, their experiences and their talents - which means they are also uniquely valuable in the role they are undertaking.
Something to watch
How to make online events more engaging, interactive, and productive…
Online meetings can be tricky things to get right…unless you know-how.
This highly-practical live online webinar is ideal for all meetings, training events, and webinars.
Something to listen to
Listen in to the very first episode with the host Jordan, member of the Your Own Place Advisory Board, speaks to the CEO of Your Own Place Rebecca White on Mentoring and it's impact
Something to watch
Remote working has become far more common during the pandemic. There are hints that working completely or mostly from home will become the 'new normal' in some organisations.
Workers are trying to establish what this means for them on an individual basis – for example, around motivation and work-life balance. Managers have a role to play in helping them find a balance that works for both workers and the business.
Something to listen to
In the midst of the coronavirus crisis, many of our conversations have been around the amazing ingenuity of companies "pivoting" to offer their goods and services to isolated customers with new focus and priorities. But what about the categories Stackline had found to be the fastest declining, have they been able to revise and revisit their offers?