Five things to learn this week
2nd Aug 2021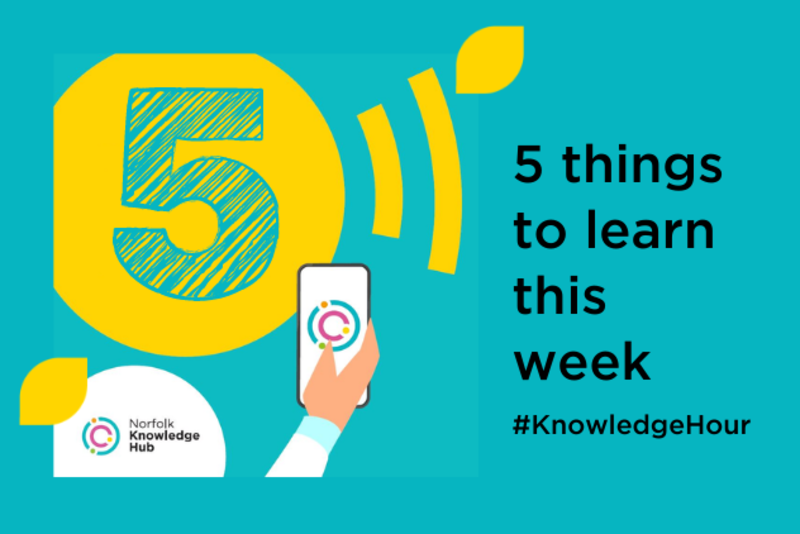 An hour of our working day can be used in so many ways: from your team catch up on zoom, finishing touches to a presentation, planning future events for your away days and, most importantly, the ins and outs of the latest blockbuster TV series.
So why not take just 60 minutes of your day to increase your knowledge and skills? You can learn about information on key issues from learning how to adapt and successfully recover from the impacts of the Covid-19 pandemic, understanding and navigating Brexit and other key challenges; to updating you and your organisation's skills and discovering new opportunities.
The Norfolk Knowledge Hub has over 30 hours of content every month, free to access and use - covering a wide variety of topics and areas.
The Hub is curated by your Norfolk Chambers, with content given freely by businesses within Norfolk in the spirit of recovery, and recognition of knowledge, learning and development.
Something to read
Your business is growing, your order books are full, and everything is going well. But what's the best way to draw money out, so you can feel the benefit of your success?
There are several options, but withdrawing money tax-efficiently takes a little planning.
Something to watch
Stuart Pemble, Professor Sean Smith and Carla Parsons on 29 April 2021 address the 'foundations' of the movement towards net zero and what we mean by net zero.
If you're interested in finding out more about Net Zero, Fabric First, offsetting and carbon neutral then this is an excellent webinar for you from Mills & Reeve
Something to listen to
What is A Micro Business?
Firstly, what is a Micro business as this is something that taxes people's brains sometimes. However, there is a very specific set of definitions about what constitutes a micro business in the UK.
Find out more from Kathy Ennis, Mentor, Author and founder of Little Piggy
Something to watch
In the first episode of our Insurance Marketing webinar series with acclaimed digital development agency Kyan, Harry Ford and David Cooper look at the most cost-effective ways to reach your audience...
Given that your audience is migrating online at a faster rate than ever, we identify platforms that can be used to reach and communicate with them and what new innovations can help you do this.
Something to listen to
The Purpose Podcast - True North
In this week's episode, I am joined by Joe Mills, People, Relationship & Culture Transformer but also known for her work as the Managing Director of the Tree Academy!
Joe came on to the podcast to share all the reasons why she does the job she does everything single day!