Five things to learn this week
20th Jul 2021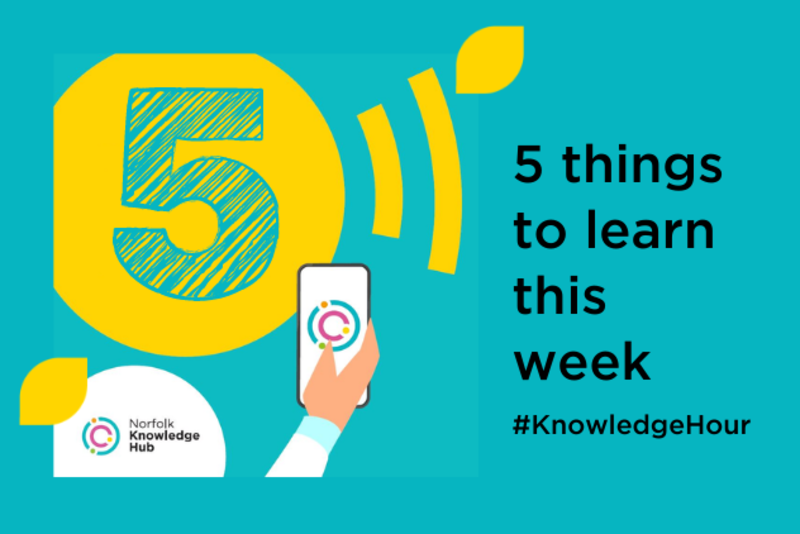 An hour of our working day can be used in so many ways: from your team catch up on zoom, finishing touches to a presentation, planning future events for your away days and, most importantly, the ins and outs of the latest blockbuster TV series.
So why not take just 60 minutes of your day to increase your knowledge and skills? You can learn about information on key issues from learning how to adapt and successfully recover from the impacts of the Covid-19 pandemic, understanding and navigating Brexit and other key challenges; to updating you and your organisation's skills and discovering new opportunities.
The Norfolk Knowledge Hub has over 30 hours of content every month, free to access and use - covering a wide variety of topics and areas.
The Hub is curated by your Norfolk Chambers, with content given freely by businesses within Norfolk in the spirit of recovery, and recognition of knowledge, learning and development.
Something to read
Three Simple Ways to Explain Your Start-Up Business Idea
"What do you do?" might seem like a simple question, but it can strike fear into the heart of the most experienced businessperson. So, I know how difficult it can be explaining your start-up business idea.
If you're setting up an accountancy business, for example, how do you explain that you're different from all the other accountants out there?
Added to the fact that you probably don't want to sound cheesy or too salesy, you don't want to talk for so long that people get bored, and you don't want anyone to think you're just rehearsing an impersonal pitch.
When you think about it like that it gets easier to see why the "What do you do?" question can feel like so scary.
Something to watch
Pure Resources: Sharing our experiences on Time to Talk day
In this video, our mental health champions and directors talk about what they struggle with, what their challenges are, particularly around working from home, and what they do to overcome these.
We hope that this video will help people feel connected, increase our understanding of the challenges people face and normalise the conversation around wellbeing and mental health, alongside ideas on how we can keep our spirits up and stay motivated.
At Pure, we have mental health champions in each of our offices. Their role is to increase awareness and understanding of mental health in our office and offer a listening ear and support to anyone who is struggling with their mental health.
Something to listen to
What about exporting, the help available and where to start
Export 'guru' Derek Scanlon, digital adviser for Department for International Trade explores how to start the process of exporting both products and services to the outside world, and the support available - which is extensive!
Something to watch
Chamber Webinar - Top Tips for Growing A Business That Cost Nothing!
There are three core strategies at the heart of what every business should be doing – however, most will only do one at best and ignore the rest. And typically, the only one they tackle is generating new leads – the hardest and most expensive strategy of the three!
The bigger the company, often the worse they are here. And that allows smaller companies to exploit and punch above their weight.
This webinar will explain the three core strategies that together make an enormous difference – every single time. No ifs or buts, they work. They are simple too – that doesn't make them easy to implement but doable.
Something to listen to
First Intuition - When Life Gives You Lemons - Dealing With Uncertainity
In this episode of our Student FI Podcast directors and tutors, Ben Bullman and David Malthouse will be discussing how to deal with unexpected change, when life gives you lemons.... make lemon meringue pie!