5 things to learn this week
6th Jul 2021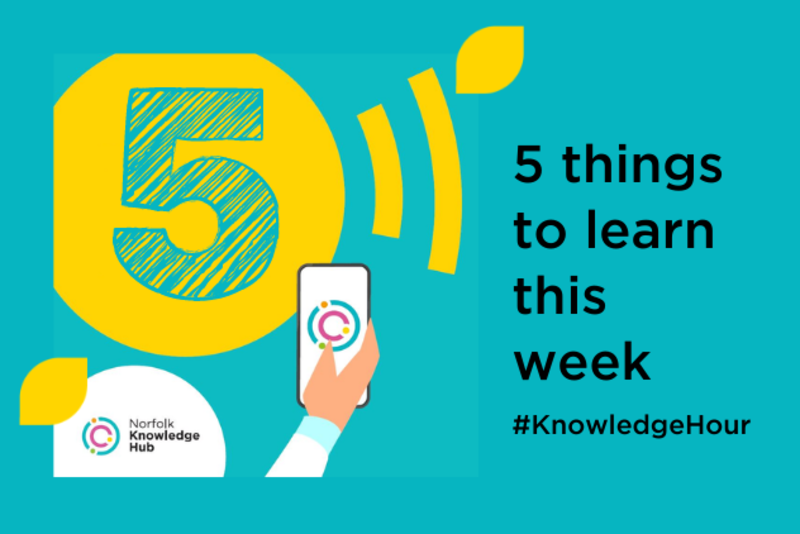 An hour of our working day can be used in so many ways: from your team catch up on zoom, finishing touches to a presentation, planning future events for your away days and, most importantly, the ins and outs of the latest blockbuster TV series.
So why not take just 60 minutes of your day to increase your knowledge and skills? You can learn about information on key issues from learning how to adapt and successfully recover from the impacts of the Covid-19 pandemic, understanding and navigating Brexit and other key challenges; to updating you and your organisation's skills and discovering new opportunities.
The Norfolk Knowledge Hub has over 30 hours of content every month, free to access and use - covering a wide variety of topics and areas.
The Hub is curated by your Norfolk Chambers, with content given freely by businesses within Norfolk in the spirit of recovery, and recognition of knowledge, learning and development.
Something to Read
HR Strategy and how it will affect the next 12 months of your business
Discover from the brilliant team at Mad-HR how your business can the extraordinary focus and strategic planning will be needed during what may be a protracted period. They share their three key areas for you to focus on.
· Respond – Dealing with the present situation and managing continuity.
· Recover – Learning, growing and emerging stronger.
· Thrive – Preparing for and shaping the future of the business.
So how will you as a business do this?
Something to listen to
4 actionable tips for scaling your website
You have your website set up how you want it. Traffic is rolling in and Sales are starting to grow.
What now? How do you scale this up properly?
SocialB have worked with many businesses in this exact situation. In this podcast, Lynsey & Paul chat through 4 actionable hints and tips to improve your website performance - regardless of whether you are a b2b or b2c organization.
Something to watch
If you're worried about keeping up team spirit? Unsure how to maintain a team ethos in the virtual world? Join First Intuitions' CEO Gareth John, along with C-J Green and Dyfrig Jenkins as they discuss the importance of keeping a team ethos in this new virtual setting and how to maintain it.
Something to listen to
A podcast with a difference – join the brilliant bakers at Face to Face Finance for their money podcast, Essential Recipes!
Money can be a bit of a taboo subject and whilst some banking adverts are encouraging us to talk about money, it can still be a bit of a tricky subject. Talking about money can be especially difficult if you are finding that your finances are all whipped up.
Deb Morgan often comes across couples who are suffering from a strain to their relationship because of money issues. Typically, unspoken about issues!
Something to listen to
Sarah Whyman leads this virtual series, in conjunction with companies including Code Nation and One HealthTech. We interview inspiring and successful women from across the technology sector about the challenges and experiences they have faced.