5 things to learn this week
29th Jun 2021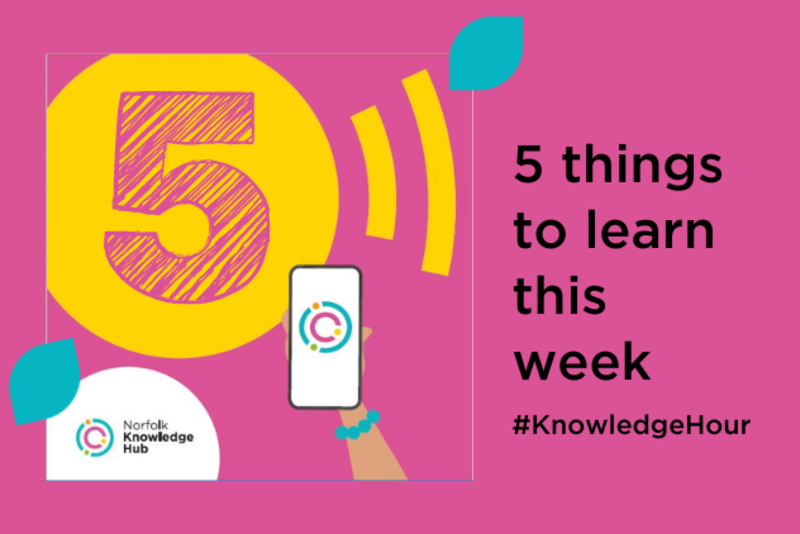 An hour of our working day can be used in so many ways: from your team catch up on zoom, finishing touches to a presentation, planning future events for your away days and, most importantly, the ins and outs of the latest blockbuster TV series.
So why not take just 60 minutes of your day to increase your knowledge and skills? You can learn about information on key issues from learning how to adapt and successfully recover from the impacts of the Covid-19 pandemic, understanding and navigating Brexit and other key challenges; to updating you and your organisation's skills and discovering new opportunities.
The Norfolk Knowledge Hub has over 30 hours of content every month, free to access and use - covering a wide variety of topics and areas.
The Hub is curated by your Norfolk Chambers, with content given freely by businesses within Norfolk in the spirit of recovery, and recognition of knowledge, learning and development.
Something to read
6 ways to make GREAT people LOVE working for you
Does the idea of losing your best people give you sleepless nights? Would you struggle to replace people if they leave? Do you find it difficult to attract and keep great employees? Do you sometimes feel like your employees don't live up to your expectations?
Something to listen to
Dr Noelia Falcon, 'I Belong here' - Interview with Dr Devin J Swiner whose goal is to increase representation of black women in STEM fields and to amplify and celebrate black chemists
Listen to the Incredible Dr Noelia Falcon's podcast and her interview with Dr Devin J Swiner, a recent PHD graduate from Dr. Abraham Badu-Tawiah's lab at The Ohio State University.In her free time, she also co-runs a blog, #MacScientist, whose goal is to increase representation of black women in STEM fields, and more recently co-founded a #BlackInChem Twitter campaign, to amplify and celebrate Black chemists. Her advocacy work is documented on her professional website, Devinthechemist.com. This summer, she will start a Senior Scientist position at Merck in Rahway, NJ.
Something to read
How to build a successful Direct to Consumer brand in 4 easy steps
In March, Buxton Three Two hosted the first episode of Buxton Insights: a series where we share our knowledge and expertise. This time, we talked about The New Norm, and the available opportunities for traditional Business to Business (B2B) businesses to move to a Direct to Consumer (D2C) model. Keep reading to find out how you can build a D2C channel in 4 easy steps.
Something to watch
Turning Factor - Emotional Intelligence in the workplace
Our ability to manage our own emotions and recognise and influence the emotions of others is fundamental in our ability to lead and manage successfully. We aim to harness the positive and manage the negative.
To help us manage our emotions we need to slow things down – Stop. Reflect. Decide.
Something to watch
Mills & Reeve LLP - How Charities' responsibilities are changing
In the last year we have all become accustomed to remote working with many charities having to embrace digital like never before. This new way of working can present its own issues. In this webinar we discuss Charity members fiduciary duties and Going Concern.