Wellbeing in the Workplace
Norfolk Chamber members have told us how important promoting and implementing processes that help support the mental health of employees is, and how by supporting wellbeing in the workplace increased productivity, employee loyalty and business growth follows.
21st Jun 2021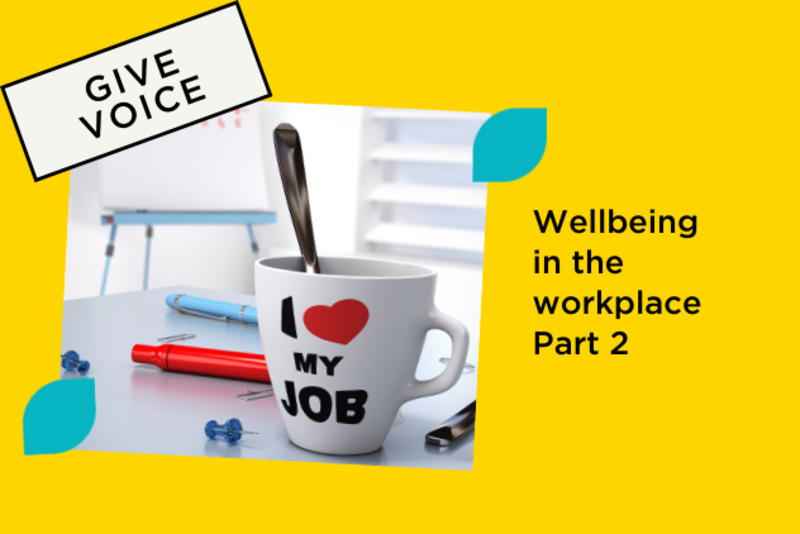 So how can you make sure that wellbeing is not only a focus, but part of the fabric of your company? Some of our members share their top tips.
Have a wellbeing champion/s
"At Lovewell Blake we have a Wellbeing Committee in place which see's each of our offices assigned at least one wellbeing champion. The committee meets twice a year to provide feedback from staff members within each of their offices and shape the Firms future wellbeing plans. It has always been essential to us that our wellbeing offering is tailored to our staff, annual staff surveys have been instrumental in helping us obtain staff feedback. Our Employee Assistance Programme (EAP) allows staff to access free, confidential support 24/7 hours a day on a whole range of topics from legal advice, child care matters through to mental health concerns. Through the EAP staff can also access face to face counselling, online cognitive behavioural therapy and an app with mood tracking and breathing techniques." Lovewell Blake
"(We have a) Mental Health First Aider who is aware of anyone struggling who does not come forward but may need help." Indigo Swan
"We have the most wonderful TMP Chaplain; Reverend Annie who staff can talk to. She is a total ray of light and always just a phone call or email away. (You may have seen her sharing her rapping skills on a few of our social media posts!) Don't underestimate her superpowers." The Matthew Project Charity
"(While it is good to have a champion) it is important to engage the whole organisation on the journey to communicate a focus on wellbeing. Whilst you can have a leadership team who champion and implement wellbeing policies and practices, and individuals who are responsible for being the 'voice' regarding positive wellbeing initiatives, it is Team managers who set the tone in their respective departments and who are there to support individuals if someone is struggling. It is also down to individual staff members to be aware of the support available and to engage with the resources on behalf of themselves or a colleague who may need support. It is down to everyone to create the culture that puts wellbeing first and encourages positive changes." Big C
Adapt existing wellbeing procedures for hybrid working and working from home
"With work environments having been fragmented during the pandemic i.e. some people working from home, some at the workplace and others furloughed, think how to get the team spirit back, incorporate non-work activities to get people talking to each other again, create conversations. Social interactions at work should not be underestimated." Hands On At Work
"With most of our teams moving to work from home we needed to adapt the way in which our wellbeing initiatives were rolled out. Throughout the pandemic we have provided staff information on the support available to them via the Firm, the EAP along with other external sources such as the NHS. Communication has become more important than ever since the pandemic and we have worked to keep staff informed and updated throughout. We have also understood that there will be varying feelings amongst our staff when it comes to the return to the office, we have ran surveys at various stages over the past 15 months to ensure that we can take into consideration any concerns staff may have when moving forwards as restrictions ease." Lovewell Blake
"(There is a) need for flexibility. We had a lot of time last year in our homes, taking up new hobbies, doing those overdue DIY bits and just having some time to relax. We believe that offering our team the flexibility, with the hours they work and the ability to work from home and in the office, gives them a better work/life balance, so they have the time do the things they enjoy!" R13
"Our managers have been forward thinking in finding ways for staff to support their families during this time. There has been lots of flexibility around working times and even locations. I took a Teams call from a colleague who was with family in Croatia on one occasion! They have made sure staff have a supported working environment at home supplying chairs, printers etc. and our HR team share LOTS of information about wellbeing events and resources." The Matthew Project Charity
"In 2019 we introduced flexible working hours, not only to improve wellbeing and productivity, but also to demonstrate the trust we have in each other. We work hard to nurture an environment where our employees feel valued and empowered, qualities which contribute to our esteemed culture." Indigo Swan
Don't just say it show it!
"Listen to your employee's - what are they saying, feeling, doing. What do they need - hold employee forums or use a survey to find what people want and where improvements are needed. Research what is on offer and remember that you might need to offer a range of options, as workforces are often diverse and what might be good for one employee may not work for another. Consider how your processes and procedures can help employee wellbeing. Keep wellbeing on the HR agenda so it is frequently monitored." Zoological Society of East Anglia
"We have many wellbeing initiatives that we have set up over the years. One of these initiatives is that we have set up is our monthly 'Wellbeing Allowance', paid for by the company. It is given to each employee to attend a wellbeing activity of their choosing. There are no rules or limitations on what this activity should be, some of the ways it is used include exercise classes, counselling, and gym memberships.
"Before the pandemic, we held weekly fitness classes and a weekly running club too which was not only good for personal fitness, but it also had a positive impact on the swan's mental health.
"We have socials once a quarter where our employees can nominate themselves to organise an event for the whole company, and so far, we have been cocktail making, held sports days, organised picnics, days out by the river… even laser tag! It helps turn colleague relationships into friendships.
"Birthdays in the office are always celebrated. Each employee donates and the lucky team member whose birthday it is gets to choose the present they would like for their big day." Indigo Swan
"For Big C, the delivery of programmes was presented in our "Wellbeing Charter" with support from Norfolk's free healthy workplace provider Thriving Workplaces. Our initiatives through this charter include:
All of our Big C Managers and Staff complete mandatory training on wellbeing and inclusion.
We have five qualified Mental health first aiders who can be contacted by staff if they are struggling or feeling overwhelmed – whether it is work related or not. They are there to listen, provide advice and signpost to services.
Following Workplace health champion training through Thriving Workplaces, we have developed an online "Wellbeing Hub" for all staff and volunteers to access covering information relating to physical, mental and social wellbeing to encourage healthy practices. This central location to collate resources can then be easily updated and shared from home or work.
We embrace relevant awareness events and encourage staff to take part. Teams recently got out into nature for a socially distanced walk to mark Mental Health Awareness Week in May.
We ensure relevant information relating to wellbeing is easily accessible. As well as the Wellbeing Hub, we include references to our wellbeing initiatives and mental first aider contact details in our weekly staff update email newsletters.
We are taking part in the Best Employers Eastern Region initiative again this year which enables us to gain detailed staff feedback. We will be paying very close attention to employee's feedback relating to wellbeing in the workplace so that we can continue to learn and improve what we do.
Big C is committed to ensuring inclusion and respect for individuality and diversity across all areas of the organisation. To support this, we have signed up to being Disability Confident Committed.
· Managers and teams have developed really good practices, for example peer support meetings for our Support and Information teams and regular team catch ups using Microsoft Teams that encourage staff to maintain social engagement. The need to offer services virtually while staff have been working from home has actually had a positive effect on engagement." Big C
"We now have Social media calendar days - from National Doughnut Day and sending everyone a treat, to Employee Appreciation Day and sending out a thank you email to all staff. We also have our newsletter and we plan to encourage staff to make a drink and take a short break to enjoy reading it. I plan to use the newsletter as a wellbeing tool in itself by including not just LV and industry news but also the social side of LV (e.g. photos of people enjoying doughnut day), demonstrating staff appreciation by promoting their achievements and maybe including a brain teaser or puzzle. We also have recognition cards – digital and printed – and encourage staff to fill them out and send on to colleagues that they would like to thank or that they think deserve some recognition for something they have done. LV Shipping
"We've launched a series of wellbeing conferences designed to keep our employees engaged when they first started working from home due to the national lockdown. Over a period of four weeks we had 20 conferences led by senior members of staff and supported by a representative from IT, HR and our mental health first aid team. The concept was simple: ask people how they were and give them the opportunity to discuss how they were feeling and anything they were struggling with." Mattioli Woods PLC
"There are several ways we focus on wellbeing at R13 including:
· Promoting a healthy and active lifestyle – recently we participated in a walking challenge for charity which encouraged the team to get out and about.
· Providing a comprehensive benefits package, ensuring the team is aware of what is on offer and actively using it. If they aren't then we review and see what we can change.
· Offering plenty of holiday and birthday off to ensure our team can take time to relax.
· Shouting about our team achievements regularly and celebrating those with events out and team activities.
· Flexible working arrangements to help our team achieve a work : life balance.
· Providing managerial support and training to the team, creating an open, encouraging and transparent work environment.
· Most of all, LISTENING to our team, their concerns, what makes them happy, how they want to grow in their role and tailoring our approach to each individual, so they can get the most out of R13
· Making mental health resources available (you can find lots of great information at https://www.mind.org.uk/ )
· Encourage activity within the workplace (we encourage our team to get out on their hour lunch break for a walk and some fresh air).
· Offer flexible working where possible.
· Make sure you stay in the know on what benefits are available and who is using them; you could be spending money on things which no one has a need for. If they aren't used, find out why, and consider if you could change what you offer?
· Ensure support, autonomy and variety in what your employees do." R13
"We regularly talk about our employee assistance programme, Health Assured - which includes sharing the monthly newsletter. All staff are enrolled on the program which offers a comprehensive telephone helplines available 24/7, formal counselling in the form of either face-to-face or telephone sessions, online video counselling and online CBT, a health and wellbeing portal, the health e-Hub app and critical incident support. Partners and dependents can access the telephone helpline and counselling too. Since lockdown we have started Wellbeing Wednesdays. This is an hour long online session run by members of our staff wellbeing group (which includes representatives from across the organisation.) It offers a great chance to meet colleagues for a cuppa and chat albeit virtually, plus fun quizzes and activities. A great way to keep us all connected." The Matthew Project Charity
Collaborate!
"We have recently entered a 2-year partnership with MIND. Norfolk & Waveney Mind have already been to visit our sites, speaking to our visitors and employees about the importance of wellbeing and mental health. They are holding a mindfulness taster session for our employee's and we will be working with them on further collaboration projects, joint fundraising initiatives and ticket giveaways."
Zoological Society of East Anglia
"In terms of additional support, we are always looking for new incentives and ideas that we can adopt to further enhance what we can offer our team and so look to external organisations like our charity of the year, Norfolk & Waveney MIND for other resources." R13
"We provide wellbeing services to businesses. We have always been advocates of the importance of health and wellbeing policies being an integral part of a company's structure rather than just something that is thought of an ad hoc basis, i.e. a tick box exercise." Hands On At Work
There are many wellbeing resources on the Norfolk Knowledge Hub, a digital learning hub that is free to use, free to share your content and gives you uninterrupted videos, podcasts and articles (there is no danger of pop up ads here!) so that you can easily spend 1 hour a week on yours and your employees wellbeing. Take a look at some of our favourite wellbeing content here