5 things to learn this week
16th Jun 2021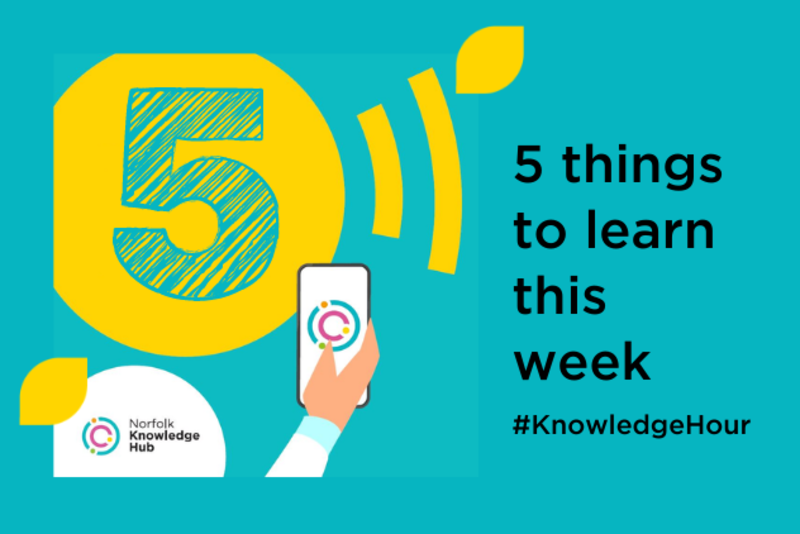 An hour of our working day can be used in so many ways: from your team catch up on zoom, finishing touches to a presentation, planning future events for your away days and, most importantly, the ins and outs of the latest blockbuster TV series.
So why not take just 60 minutes of your day to increase your knowledge and skills? You can learn about information on key issues from learning how to adapt and successfully recover from the impacts of the Covid-19 pandemic, understanding and navigating Brexit and other key challenges; to updating you and your organisation's skills and discovering new opportunities.
The Norfolk Knowledge Hub has over 30 hours of content every month, free to access and use - covering a wide variety of topics and areas.
The Hub is curated by your Norfolk Chambers, with content given freely by businesses within Norfolk in the spirit of recovery, and recognition of knowledge, learning and development.
Something to watch
Buddhist view on hanging out: Norwich Buddist Centre
In this video Vajraguptā talks about the relevance of hanging out and chilling out in Buddhism.
Find out how relaxation and looseness affect our mind, body and hearts.
She reflects what this might look like when we're with our friends and talks about how we can be with what life brings our way.
Being comfortable with silence, letting go of making an effort and leaning into life are themes that Vajragupta weaves into this short talk.
Norwich Buddhist Centre has been in the heart of Norwich City for over 40 years teaching meditation and Buddhism.
We offer a rich variety of courses and classes throughout the week with something to offer for beginners, through to those who have more experience.
Something to listen to
So, you're thinking about a Side Hustle? Kathy Ennis, LittlePiggy
So, you want to start a business. The only problem is you've got a job. And you can't afford to leave that job, because it's the job that pays the bills.
But you really want to start a business.
Welcome to the wonderful world of the side hustle.
My name is Kathy Ennis. And in this episode of The Micro Pod, I want to look at three things that I think every side hustler, or would-be side hustler, should consider when they are looking at starting this business that runs alongside their employment
Three things that I think will help them to transition from employee to entrepreneur.
Something to listen to
How & Why Your Organisation Needs To Be Found With Voice Search
When did you last use your voice rather than typing to carry out a task, find something out, or purchase something?
My guess is for the majority of you it might well have been at least once in the last 24 hours.
Voice has and continues to grow at a phenomenal rate & should be on every organisation's radar, plans, and focus. Lynsey Sweales, Socialb chats to James Poulter in this podcast where they will bring you up to speed on voice as well as getting you thinking about how you should be creating plans and implementing your organization to support voice going forward.
Something to watch
Pitching with Confidence – Masterclass - Recovery Programme
The goal of Emma Zang's masterclass is to give you the tool to pitch your business eloquently, with passion, authenticity, and credibility.
The masterclass is highly interactive, and the aim is for each participant to find out what works for them, how they can activate their confidence and what to practice before a pitching session.
Content / Takeaway
In this Masterclass, we will cover:
· What matters the most when pitching.
· Basics of achieving a grounded presence that transforms the effectiveness of any message.
· Tried-and-tested techniques to avoid filler words, find the right posture and hand gestures that improve speech, have affective eye contact.
· Mindset and Activating Confidence Exercises.
· Best practice when pitching remotely or on-camera.
Get your pitch ideas ready & bring a pen
Something to watch
The role of Managers Part 1 - PrOPEL Hub
Our recent PrOPEL Hub Masterclass, chaired by Professor Colin Lindsay, explores theory and practice on the key role of line managers in encouraging workplace innovation and employee engagement. Colin is joined by Dr Anna Bos Nehles from the University of Twente and Liz Reilly and Suzanne Thomas from the Scottish Government/ NHSScotland who provide actionable takeaways from the latest research and lived experience.
Anna starts by outlining the concept of workplace innovation and why it is so crucial for businesses in driving growth. Liz and Suzanne then ground the theory set out by Anna in lived experience as they share their work to develop and implement the iMatter Staff Experience Continuous Improvement Model, a transformative staff engagement journey.