5 things to learn this week
The Norfolk Knowledge Hub
27th May 2021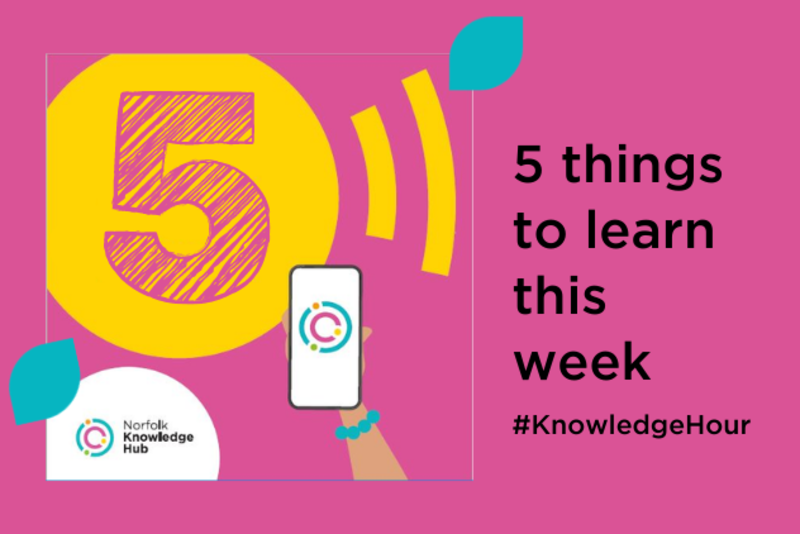 An hour of our working day can be used in so many ways: from your team catch up on zoom, finishing touches to a presentation, planning future events for your away days and, most importantly, the ins and outs of the latest blockbuster TV series.
So why not take just 60 minutes of your day to increase your knowledge and skills? You can learn about information on key issues from learning how to adapt and successfully recover from the impacts of the Covid-19 pandemic, understanding and navigating Brexit and other key challenges; to updating you and your organisation's skills and discovering new opportunities.
The Norfolk Knowledge Hub has over 30 hours of content every month, free to access and use - covering a wide variety of topics and areas.
The Hub is curated by your Norfolk Chambers, with content given freely by businesses within Norfolk in the spirit of recovery, and recognition of knowledge, learning and development.
1. Something to read
Motivation in the Workplace, Turning Factor
Top of the list for 99.9% businesses this year - Motivation in the workplace.
We say 'workplace' but what we're actually talking about is kitchen tables, back bedrooms and garden sheds! Alex Sellers talks about the enormity of this challenge for manager and leaders.
He says, "Motivation can be defined as energy. Consider for a moment how you feel when you are motivated or demotivated. Are you energised? Are you engaged? Or do you feel lacklustre, tired and stressed?"
This is a fantastic read, with insights and intelligent ideas. From identifying urgent versus important and knowing when to stop.
2. Something to read
Why Failure Will Teach You Much More than Success – Kathy Ennis, LittlePiggy
Resilience is one of those buzzwords that has, and will, firmly embed itself into our future post-covid culture, and with good reason.
Kathy Ennis asks "What happens when you fail at something? Do you brush yourself off and start over, or slink away in embarrassment, vowing never to try anything new again?"
The most intriguing sentence for me was 'Innovation needs failure'. What better word to sit alongside failure? This is a fantastic read!
3. Something to listen
How to work with Influencers Successfully – SocialB
Why not take a lunchtime walk and listen to the brilliance from Lynsey Sweales at SocialB and discover how the explosion of online influencers in recent years can be utilised for your business?
This podcast asks: What are the options for you to work with influencers? How do you approach them?
4. Something to watch
Create and broadcast your own Podcast
Part of our recovery programme of learning content, this is an invaluable webinar if you are thinking of creating your own podcast. The brilliant Ollie from Socialb talks about what it can do for your business, and the important Do's and Don'ts!
Spend your knowledge hour on this 60-minute masterclass and get your creativity buzzing!
5. Something to watch
Time Management - First Intuition
Can time be quantified as a skill? The management of it certainly can. Time has been a malleable concept for most of us throughout 2020 (a year that somehow felt like it morphed into 300 years) with juggling home schooling and home working we've all had to prioritise workloads.
How are you managing your time? Is it slipping away from you? Are you Struggling to prioritize your tasks? Then take 38 mins today look at your management of You. Join Oliver McAfee as he talks about greater productivity and prioritising your workload.