We're Here for English Tourism Week 2021
24th May 2021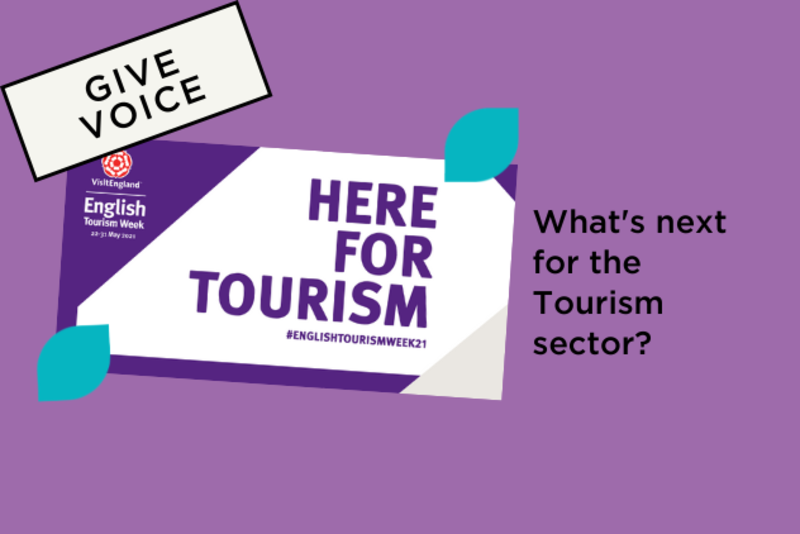 How important is the tourism and hospitality sector to Norfolk's economy? What do these sectors need to rebuild post-pandemic? How can politicians and MPs help? And what can all Norfolk businesses do right now to support? Norfolk Chambers put these questions and more to some of our members in the Tourism, Leisure and Retail sectors to find out…
'Making up 80% of the UKs visitor economy, English tourism in 2019 generated over £100 billion a year, supported 2.6 million jobs and is a major employer of school leavers and young people, as well as an incubator for entrepreneurs and innovation.' (Source: VisitEngland).
Your Norfolk Chambers is supporting VisitEngland's annual English Tourism Week, to celebrate English tourism and to help raise awareness of this sector to key stakeholders including MPs to aid recovery from the pandemic.
There is no doubt that Norfolk's tourism industry has been one of the sectors most heavily hit by the pandemic. Three lockdowns of which this sector was one of the last to reopen, communicating constant changes, financial pressures and the strain on employee wellbeing, has taken its toll.
However, from the challenges has come opportunity – and opportunities to support the tourism sector that boosts the local economy by generating revenue, creating jobs and helping drive forward innovation.
Paul Searle, Managing Director for the Searles Leisure Group believes that through creating strong relationships, better connections and clear communication the tourism industry can start to rebuild and grow: "The government support has been excellent so far, but we need to continue the help in promoting our business and tourism for the local area, to restore faith in the industry and help maintain the new customer groups we have attracted so far.
"The business community as a whole can help support this through dialogue with the local Councils and the development of sector workshops and networking."
Richard Pace, Managing Director at Norwich Airport agrees that clear and ongoing messaging from government and within the business community is one of the ways to support this sector: "We need to encourage domestic and international travel and restore confidence in passengers that it is safe to fly. Part of this is supporting tourism and leisure businesses to adapt to the 'new normal' and survive the long-lasting effects of the pandemic. Continued business investment is important to the recovery, as is clear messaging and information to limit uncertainty and get the country moving."
The prolonged ban on international travel and significantly reduced passenger numbers has put added pressure on Norwich Airport and the regional economy, as Richard Pace explained: "Significant financial support (from government) was not forthcoming until late in 2020, and we are still waiting on details for the delivery of some of the measures promised later in 2021.
"With 2021 expected to be the second-worst year in aviation history, summer 2021 needs to be a success for airports and airlines to survive, avoid further job losses and recover and further. The UK government has to play a leadership role in bringing together other countries to set out a common approach to restarting aviation safely and get back activity to financially viable levels. The traffic light system is a welcome start but the Government is urged to consider the logical step to permit people who can show they have been vaccinated not to be asked to take PCR tests or face mandatory quarantine on return to the UK. Furthermore we need to see further reductions in the cost of testing to permit affordable international travel to resume.
"Throughout the pandemic, the critical importance of regional and international air connectivity has been reinforced to drive economic activity, to connect Norfolk to the regions and the world and providing local choices for passengers to fly for business, leisure or to visit family and friends."
The pandemic has also highlighted the importance of how businesses need to adapt to not only adhere to rules set by government, but also to the changing needs of customers. Richard Pace says that Norwich Airport will continue to have enhanced hygiene and safety measures in place to make sure people feel safe whilst travelling through the airport. He also hinted at how when lockdown eases and commercial travel slowly returns, Norwich Airport will "look to add new, exciting routes and quickly return to growth to provide increased choice for passengers to use their local airport."
Businesses that benefit from increased tourism or business visitors, such as retail, have also used this time to adapt their offering to remain relevant to customers. Paul McCarthy, General Manager at Chantry Place has not only overseen a brand change from intu Chapelfield to Chantry Place, he has also helped introduce new additions to the shopping centre's shop portfolio with the opening of Escape Hunt, Subway and Deichmann. He believes what is need now is for the business community to support each other through collaboration:
"Our focus remains on supporting our retailers and ensuring that all of our visitors have a positive experience when they join us. Our new rainbow on Chantry Square, which is raising funds for the NHS, is fast becoming a feature of the Centre, making people smile and is adding some extra magic, and we are working with our local partners and on community projects which is a renewed priority for us this year. For example, we have an exciting partnership with the Norfolk & Norwich Festival with a box office in the Centre and are working with local businesses to promote all the amazing things that Norwich has to offer.
"We are also a presenting partner of Break's GoGoDiscover T.rex trail this summer, which includes sponsoring one and hosting others in the Centre, which is really exciting."
Claudia Roberts, CEO at the Zoological Society of East Anglia agrees that collaborations between businesses and organisations is one way the business community can support the Tourism sector:
"The business community is able to support one another by sharing their services and expertise which ultimately will support the Tourism and Leisure industry. Banham Zoo in Norfolk has a great relationship with a nearby caravan park and campsite, Applewood Countryside Park, and we will continue to grow this relationship together, particularly as staycations become more popular throughout the year. We will also be collaborating with local charities as part of our community strategy to ensure we engage with our entire community in connecting with nature and the importance of conservation."
When the zoos were closed during the lockdowns they lost over £2 million in revenue. However, thanks to fundraising efforts by their visitors and the Zoo Animal Fund grant they received from the Department for Environment, Food and Rural Affairs (DEFRA), the charity was able to survive. Now, says Claudia Roberts, is the time to make sure that only our visitors can enjoy our zoos again, but also that they put in place schemes that will enable them to rebuild and grow.
"We have recently been meeting with our volunteers and will be launching a new volunteer programme across all areas of the zoo. This type of support will be invaluable for us to rebuild and meet our long-term charitable objectives. We will also be looking at apprenticeship schemes as a way to create a new route of employment and create a dedicated workforce for our charity."
The Zoological Society are also looking to strengthen their digital focus across both their zoos to help them deliver on their charitable objectives in conservation, education and community.
Being innovative when it comes to embracing digital is also something that the Searles Leisure Group are also doing in order to pivot elements of their business. "We will be relying on digital technology more after COVID," says Paul Searle. "We have integrated several new software products and projects to enable our customers and staff to receive service in a while reducing contact."
Digital innovation, business collaborations, supporting the Tourism sectors by having business meetings/away days/team building days in Norfolk, arranging overseas travel when safe to do so by using Norfolk's local airport, and being vocal about how your business is supporting this sector are some of the things all businesses in Norfolk can do right now to help support these industries that bring so much to our local economy.
However, there is no doubt that more support is needed, particularly for businesses such as Norwich Airport who help connect our business community with Europe and the rest of the world. And this support, says Richard Pace, Managing Director of Norwich Airport, needs to happen sooner rather than later:
"We have asked the government to retain business rate relief for UK airports in 2021/22, put in place a testing framework that sets out how and when testing will reduce and finally eliminate quarantine for international travel, continue business supports measures such as business rate relief and the Job Retention Scheme for the aviation industry, implement a 12-moth APD holiday and remove double-charging of domestic APD and Reverse abolition of airside VAT exemption."
This is just the beginning of a much wider debate on how key stakeholders including MPs, and the wide business community can help our Tourism industries recover from the pandemic. You can add your voice to the VisitEngland campaign over on social by finishing this sentence:
We're Here for Tourism because…, tagging in @VisitEnglandBiz and @NorfolkChamber and using #EnglishTourismWeek21
Let's help give voice to the Tourism sectors.