How to maintain a good posture when working from home
Tim Evans, Access2Comfort
22nd Feb 2021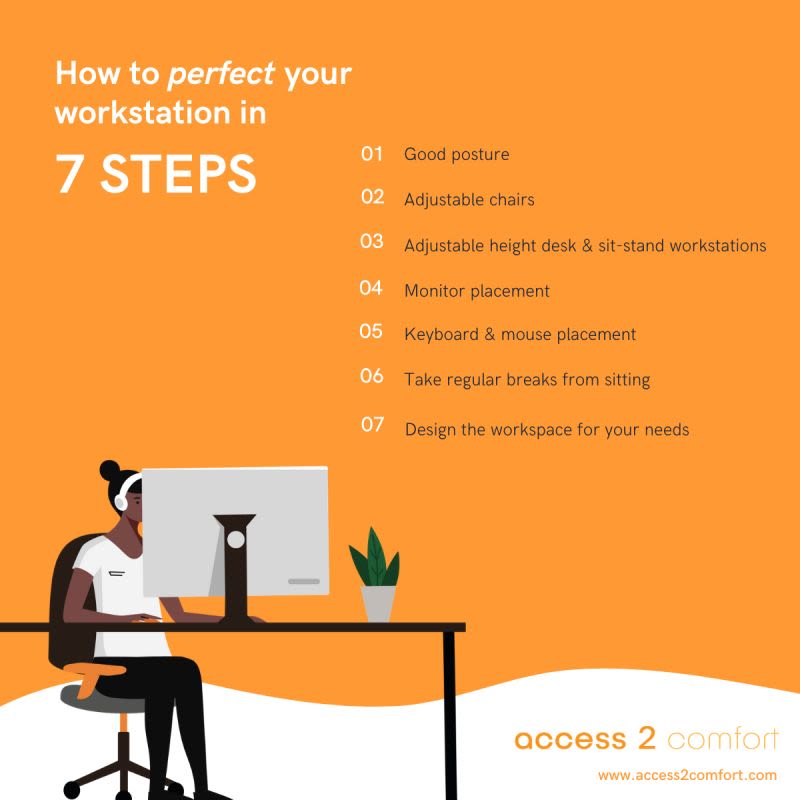 Sitting still in a poor posture for long periods of time puts stress on discs, muscles and tendons. If working at a desk takes up the majority of your time, this can cause long-term problems. Check out our tips for a better workstation experience.


Do's
Adjust your seat pad height and backrest to suit you
Keep your feet flat on the floor or on a footrest
Take regular breaks
Don'ts
Do not sit with your legs crossed
Do not sit with the back of your knees rubbing on the edge of your seat pad
Do not hunch or slouch forward in the chair
Do not stay seated in the same position for long periods of time
Do not sit n the edge of your seat
Do not have your keyboard or mouse out of functional reach
Comfort through Ergonomics…
A leading specialist in ergonomic workplace assessments Access 2 Comfort has been delivering Workplace, Vehicle and Display Screen Equipment (DSE) assessments, for home workers, business and commercial clients throughout the UK since 2004.
Being fully independent and unaffiliated to any particular brand or manufacturer, we have built a reputation of trust by consistently offering our clients friendly unbiased advice and backed-up with practical, cost-effective solutions.
So if either you or your employees are suffering from aches and pains as a result of long hours at a desk or behind the wheel, whether in an office, shop, factory or whilst on the road or working from home get in touch because we can help
Get in touch
If you'd like to speak to one of our assessors to find out more about how you can make your workplace more ergonomic, please give us or a call or drop us a line.
Call - 01603 893299
Monday to Friday: 9:00 am - 5:00 pm