Top Tips for Remote Workers
CyberScale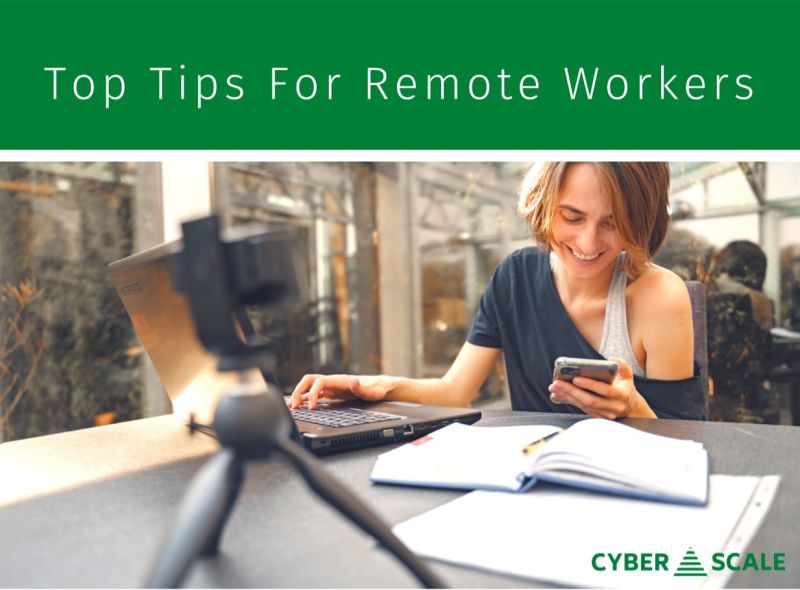 If like many, part of your 'new normal' is spending more time working away from the office then you are likely being asked to take more responsibility for keeping your company's devices and data secure when working remotely. So what can you do to make sure you keep working securely? Here are some top tips and best practices to help you play your part in keeping you, your colleagues and your company protected.
Your Leadership team and IT department can do so much with technical solutions, but you can play a huge part too;
Be aware of your surroundings
If you're working in a public area or even in a shared house, you can never be sure who is watching or listening-use a screen filter to stop "shoulder surfers" and use a headset when on calls. Even when working from home you need to be aware-if using a webcam, what can be seen on your desk or around you?
Be aware of your desktop
Sharing your desktop is a great way to present or collaborate via video conference calls-but take steps to ensure you don't accidentally share too much! Aside from potentially being rather awkward, this could be a huge security risk. Close applications you're not using and try to share specific applications rather than your entire desktop where possible to make sure nothing sensitive is exposed.
Keep Business and Personal separate
If you have a corporate laptop then use it solely for work-similarly keep your personal devices personal. If you don't have a dedicated work device try and differentiate your use-use a VPN if directed to do so to keep business communications private and disconnect when using your device for home use. If you have a shared device take extra care-don't store any work documents on the device if you can help it, use separate password-protected accounts for your work and make sure you lock the screen, or log out when not in use.
If you can, keep your Business and Personal devices on different WIFI networks by setting up a separate SSID just for your work kit to prevent access to work resources from personal devices.
Choose your networks carefully
Be cautious when connecting your business devices-laptops or smart phones -to any WIFI networks. Whether a home or public network, there's no way of knowing what other users connected to the same network might be accessing on their devices, or how protected their devices are. Malware on someone else's device could easily spread to your work device on the same network so choose carefully, but always assume it's insecure and take appropriate steps to protect your device regardless. Public networks are commonly compromised to enable intercepting network data –make sure you are using your company VPN if on a public network.
Be aware of company policies
Your company should have made available to you all relevant security policies, and these may be different now as they are when working from the office. It's up to you to make sure you understand and comply with all policies-there may be repercussions if you don't so if you can't comply with any written policies for whatever reason, speak to your manager and let them know.
Secure your home network
You should make sure your home WIFI network is encrypted, and also check the password used to access your internet router-if you haven't changed it then chances are it could be a default or weak password leaving it wide open to attack. A breach could expose all your devices and all communications in and out of the internet, and a default or weak password is like leaving the key in a locked door.
If you are unsure if or how you should change the password speak to your company IT contact or your Internet Service Provider directly who should be able to assist.
Install and update anti-virus software
Anti-virus software is important to have on all of your devices regardless of what you use them for, but if you are using your own device for work then it's critical. Prevent malware from compromising your own and your employer's systems by installing Anti-virus software and keeping it up to date.
Beware Covid-19 related scams
You are probably constantly inundated with phishing emails and other scams, even if you don't realise it, but cyber criminals are exploiting the current situation with Covid-19 to make their scams seem more realistic. If you get emails with any suspicious links or attachments related to Covid-19, don't open them or click any links-contact your IT resource to check it out if you're not sure.
Make sure your programs and systems are up to date
Programs and operating systems are updated regularly to fix bugs and make them more secure. Make sure your operating system is running the latest version-enable automatic updates to make sure your systems are as safe as possible-and don't forget your Internet router, this also needs updating with the latest firmware to help keep it secure